How To A Send Newsletter In Gmail
This article gives you the way to send the newsletter in Gmail within some steps in order to boost revenue in the Marketing business!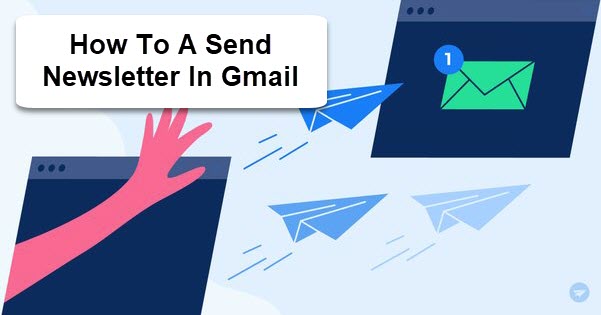 For Marketers, email marketing is a great and easy way to boost revenue. A newsletter is a great tool to keep your audience informed and engaged. You can also build a relationship with customers through email newsletters. This allows you to share content, generate leads, and increase sales. This article gives you the way to send the newsletter in Gmail within some steps!
HOW TO SEND A NEWSLETTER IN GMAIL
Step 1 Start by creating your newsletter. Google Docs is a great tool to do this. You don't have to create a new newsletter. Instead, you can select from a variety of pre-made templates. After you have completed your newsletter creation, click on all the links and hit Copy.
Step 2 Then, log in to Gmail to create a new email. Next, add all of your subscribers' email addresses to the Blind Carbon Copy section. This is important because recipients who are added to the BCC section will not be shown to others. This will protect your readers' privacy.
Step 3 Create a great subject line. Example: "You don't want this offer to pass you by?"
Step 4 Paste your newsletter in the body section. It was already copied in the first step.
Step 5 Choose Send. You're done! Your email newsletter has been sent to Gmail in just 5 steps.
HOW TO SEND A NEWSLETTER IN GMAIL WITH TOOLS
Step 1 Go to the Chrome Web Store in Chrome Browser
Step 2 Enter Newsletter in the search box at the top.
Step 3 To learn more about the app or extension, click on it.
Step 4 After you have found the extension or app you wish to use, click Add To Chrome.
Step 5 Follow the steps to create your newsletter.
BENEFITS OF USING TOOLS TO SEND NEWSLETTERS IN GMAIL
It allows you to personalize newsletters: Personalizing your email newsletters is a great way to improve their effectiveness. This is where tools come in handy. You can customize your newsletters either by importing your HTML design or choosing from a variety of templates already in use.
It Improves Email Deliverability: Your email newsletters will likely end up in your customers' spam or promotions folders. All your hard work and effort will go unused.
It provides actionable insights about your campaign: It is important to determine how your newsletter performs, and what content keeps your target audience interested.
It allows you to schedule emails for later: Email personalization involves sending the emails at the right moment. Tools support email scheduling in accordance with different time zones.
It makes managing mailing lists easier: You will likely have thousands of subscribers if your newsletter is well-received. It can be tedious to manage your mailing lists manually.
It expands your reach: Gmail won't allow you to send newsletters without tools. Google Workspace has a similar restriction.